Jurassic World: Dominion Dominates Fandom Wikis - The Loop
Play Sound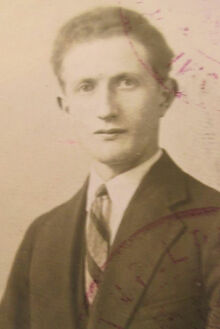 Israel Kristal - 113 years, 330 days, Poland and Israel
During the first half of the twentieth century Israel Kristal endured privations and trauma of an intensity that few people have to face. His hardships are told according to his testimony reported in his old age. By his teenage years he had already faced the First World War and become an orphan. Between the wars he married and during the brief peaceful respite of those years he was able to establish a lifelong career as a confectionary maker. Then the darkness of war returned, and the family were confined with thousands of other Jews to the Lodz ghetto during most of the Second World War. There they suffered from hunger and disease while servicing the needs of the occupying Germans with hard labour. Most of Israel's relatives perished. When the ghetto was cleared, they were sent to the concentration camps of Auschwitz where Israel's wife is believed to have died, and he barely survived. After the war Israel rebuilt his life, marrying a second time and starting a new family. They found a new home in Haifa, Israel where Kristal continued to make sweets while fervently practicing his religion. 
With such a valorous background, it is understandable that there was more pressure than usual to complete his longevity validation when he became a candidate for the oldest surviving holocaust survivor and the oldest living man in 2016, even if Israel himself never pushed for recognition. One media report even suggested that the GRG might be prepared to overlook the lack of a birth record from the first 20 years of his life as usually required for a minimal standard of validation [53]. Fortunately that was no longer necessary when genealogist Michael Tobias found a registration card for Israel's father from Lodz which listed Israel Icek Krystal born in 1903. Along with other records such as the certificate of his first marriage in 1928, this was sufficient to meet the standards required by Guinness World Records.
An official validation was published in 2020 by Wacław Jan Kroczek and Robert Young [54]. This gave us a basis on which to start this review, even if their report still left a lot to find. The validators had not had the opportunity to interview Israel directly and therefore relied on his relatives for testimony. Very little was said in their report about the important part of his life up to 1920 when the earliest known record was written, and that record itself provided more questions than answers. No attempt had been made to explore his early genealogy apart from his later marriages. There was no mention of photographs or other evidence to confirm with certainty his continuous identity through the war years when his family appeared to have been lost. The identity of other people on the crucial registration card from 1918 had not been established correctly. The only references cited in the validation were the GWR announcement and a generic paper about validation standards. Even the validators themselves admitted that the standard could only be described as "validation by proxy" because of the substitution of later documents as proof of birth.
Our goal was to see if the standard of validation could be improved by exploring some of these untrodden avenues of research. To do this we would have to eliminate beyond a reasonable doubt any possibility of age exaggeration or identity switches during his life. This is a task that must be done objectively so that anyone who needs to compile longevity statistics for scientific purposes has a sound basis to work from.
In 2003 at the age of 100, Krystal was interviewed for a biography which was written in Hebrew [77]. Since it was published before there was international interest in his story, it was not widely circulated and is very hard to locate. We were able to acquire a copy from the National Library of Israel for research purposes, and used online translation to read it. The book has provided many details of his early life, some of which have also been made available via his family and news reports. Direct access to the book has provided extra details and clarified some ambiguities in reports. We would like to take this opportunity to encourage his family to have the book republished with an English translation. It would undoubtedly be of great interest to many people including holocaust historians, and could easily be adapted as a film plot to promote remembrance of the events of the events he experienced first-hand.
The first stage of the review was to reconstruct the important details of his early life according to his own words from the testimonial reports, so that a better understanding of the context behind the early record and its level of certainty can be established. This must be read with the understanding that the details came to us third hand, adding to any inaccuracies due to translation and failing memory after such a long period of time. The following synopsis of his testimony is taken from Israel's biography and news references [53,55,56,57,58,59,60,61,62,63,64].
Israel Isek Krystal was born on the 15th September 1903 in the town of Żarnów 100km south of Łódź in Poland. When he was one year old, his father Moshe David Krystal was appointed as secretary to a landowner in the village of Maleniec, seven kilometres further South, and the family moved out to the countryside. At the time this region of Poland was within the territory of the Russian empire. Life there was not easy. Water was pumped from a nearby river and there was no electricity. The telephone was not available to them and mail was slow, so separated families could easily lose touch.
Israel's father was a scholar fluent in Russian, Yiddish, Polish and Hebrew who ensured that his son received a religious education, waking him at 5 in the morning so that he could say his prayers in time to attend lessons. From the age of three the young boy attended the Cheder to learn Hebrew and the basic tenets of Judaism, then at five he studied Chumash, the Five Books of Moses, or Torah, and at age six the Mishnah, the oral law of Judaism. The sons were afraid of their father and Israel recalled that it was forbidden to sit in his chair. Despite the family's harsh lifestyle, Israel's earliest memories were mostly happy ones. He remembered his father teaching him to swim in the river, climbing fruit trees, and a goat that his father brought and the kids that it gave birth to.
His paternal grandparents Yaakow and Gitla were also known to him. They had 17 children of which Moshe Dawid was the eldest. Gitla was just 15 when he was born. Israel was in his turn the third of seven sons, but at age ten his 29 year old mother Brucha Rojth died. His memories of her final years were heart-breaking. She suffered from chronic gallstones which caused her to cry in pain. She left four surviving children; Yosef, Sisman, Israel and Abram. The father remarried quickly after her death to have help with the burden of raising the children. So they gained a stepmother Rebeka.
His first sight of a car was the day that Kaiser Franz Joseph passed through a nearby town. Israel joined a group of young Jews who made the journey to see him and chuck sweets at his motorcade calling out "but where are the horses?" The visit was however a portent of dark times ahead. The emperor's nephew Archduke Franz Ferdinand was assassinated in Sarajevo on June 28, 1914, sparking the beginning of the Great War. The area around their home became a battlefield of skirmishing German and Russian soldiers. Moshe David Krystal was conscripted into the Russian army leaving the children in the keeping of their aunts and uncles. They heard no news of their father for four years.
Although Israel often went hungry, he would still give bread and other foodstuffs to Jewish soldiers who came by. One time a soldier asked Israel to say Kaddish for his relatives in case the soldier died on the battlefield. In 1915 Israel was separated from his brothers and sent to work on a farm near Lublin 150km away in the care of an aunt and uncle who exploited him for work. At age 13 he should have celebrated his bar mitzvah, but without his family and with war around him, the usual coming of age celebration was not possible. He remembers that he was given his cousin's tefillin to use, but otherwise the day passed unmarked. Israel had to work long hours on the farm and could not go to school. The Russian front lines had been pushed back by the Prussian armies to just past where he now lived. Israel would sometimes be made to smuggle food and alcohol between the lines of the war, running barefoot through the snow in the night with a heavy load on his back.
After three years of fighting the Russian empire collapsed and finally in 1918 Israel's father returned home. As the war drew to an end, the 15 year old son was reunited with his family but happiness was again short-lived. A year after his return, during the Jewish festival of Purim 1919 (March 16th), Israel's father died of typhoid fever, leaving his sons as orphans. In August of the same year Israel was summoned to report to the mayor's office in the Opoczno district in central Poland in order to verify his birth according to resident's law. With the help of two trusted witnesses he was able to obtain a document verifying the names of his parents and his birth year of 1903.
Now obliged to fend for himself at 17 years old, Israel started working as a tin-smith in the town of Lodz, repairing house pipes and guttering. Later he worked in a confectionary business owned by some of his family. It was again hard work, requiring him to move 25kg bags of sugar. In time he learnt the trade well and after he married at the age of 28 he opened a shop with his wife Chaja Feige Frucht, selling chocolate sweets that he made himself. They faced anti-Semitic hatred against their business during the time of the pogroms, but were helped by their sympathetic German landlord.
In 1939 the winds of war returned to the region. Israel and his family were confined to the Lodz Ghetto. In his later years Israel told how he lost his two sons aged 8 and 10 to diseases that were rife in the confinement. Many other Jews died there or were deported to concentration camps where most were murdered. Israel described how they survived until 1944 in the ghetto by making sweets for the Germans and leaders of the Judenrat. Then finally they too were deported. His wife died but he survived until he was released by the returning Russian army in 1945.
The formal validation for Israel Kristal hinges on a family registration card from Lodz that includes his name "Israel Isek" with the birthdate of 1st May 1903. The card dated 15th April 1918 is in the name of his father "Mojzess Dawid Kristal" and includes four other family members, but Israel's name is in a different handwriting and a margin note confirms that it was added on 29 Nov 1920. Other records such as his 1928 marriage certificate confirm details such as his parent's name. A death record for his mother indicates that she died in 1913 leaving three children. Since the registration card is still well within the first 20 years of Israel's life it is accepted as sufficient for the longevity validation according to the standards employed by GWR, GRG and IDL.
As validations are ranked, this meets just the bare minimum necessary for acceptance. The official report gives no list of siblings and no consideration of the likelihood of age exaggeration or identity swaps. With the limited information provided it is difficult not to raise suspicions. Could Israel's age have been inflated to allow him to start work? Given that he was orphaned before the date at which his birthdate was noted, and that he had been separated from his family for several years, how sure can we be that his true birth year was even correctly known? The registration card appears to show five children including two named Abram. Who were they really? If they were not siblings then can we even be sure that Israel is really the biological child of Mosche Dawid Kristal? Why is there no known record from the time of his birth?
Later records and Israel's testimony consistently give his birth year as 1903 and the same names for his parents, but we know from cases such as Carol C White that once a single error has been officially recorded, it can be copied diligently onto future documents. His testimony indicated that he obtained an official paper in about 1919 giving his parent's names and year of birth as 1903. Although this document was lost, it was undoubtedly the origin of all other later records giving these details such as on his marriage record. He was required to produce a birth record for his marriage. There is a preserved record from 1927 that served this purpose. The document notes that he had a passport issued by the County Office in Opoczno, on 13 Dec 1923. This is four years after he obtained a birth record from the same office according to his testimony, so if his memory is accurate it is a separate document, also now lost. His accepted birthday of 15th September first appeared in records on 9 May 1945 (Victory Day) and is different from the one on the card. With the help of Liliya Meyerovich from the United States Holocaust Memorial Museum we were able to obtain the International Tracing Service documentation for his locations during WW2 created from Israel's request in 1955 where he stated his birthday as September 15. We were not able to find earlier documents with this date of birth.
As far as we can tell no further investigation into the family history from these times was done by the validators or anyone else before us. Nobody, including us, would wish to subtract from his remarkable story, but for scientific purposes it is necessary to consider whether his age validation is sufficiently robust to be used in statistical studies. Notice that the evidence may indicate that he is older than the official record rather than younger.  
With these thoughts in mind we began to search for more information about his early life. To our surprise we found that there is in fact an enormous amount of information about Jewish ancestry from these times, and much of it is indexed and freely available online. In particular the Jewish Record Index is an excellent resource. We are very grateful to Michael Tobias, one of the founders of this index, who helped us by providing scanned copies of many of the records and further details not yet online.
Our first important find was a second registration card from Lodz similar to the one used by the validators to confirm Israel's age (Figure 3). These registration cards were compiled by the German administration between 1915 and 1921. The new card is another Kristal family at the same address (27 Średnia Street, District V), probably registered earlier. The head at that time was Jankiel Kristal who lived with his wife Gitla and seven other family members. Two of those listed appeared to be on both cards. Israel had given the names of his grandparents as Yaakow and Gitla, but Jankiel and Yaakow are the German and Hebrew versions of the name Jacob, so we could now identify them on this card.
From this starting point we searched the Jewish Record Index for more details with much success. We were able to construct a detailed ancestry of the Kristal family going back five generations before Israel. We found that his father was one of eleven siblings that reached adulthood while Israel himself had at least two brothers Zisman (b 1901) and Abram (b 1909) who survived until the Second World War and had families of their own. The official record is not perfect. On one occasion in 1893 Jacob and Gitla registered five of their children at once, making an excuse for lateness that some had been ill. This makes it less surprising that the records for Israel's own siblings have not been found. Nevertheless there are sufficient later documents including marriage records to confirm that we now have an accurate family history.

The official validation assumed that the family list on the first registration card must be Israel's siblings. This was inconsistent with his mother's death record from 1913 that said she left three children. We now know that Perla (b. 1893) is an aunt and Zysman (b 1895) is an uncle. Abram (b 1906) is probably a cousin and only Abram (b 1909) is his younger brother. An older brother Zisman can be found on the other card along with other aunts and uncles.
In his own testimony, Israel said that his mother had seven children and left four. He describes another older brother Yosef in his biography that we had not found in the record archives. We can be confident that the testimony is reliable because Yosef moved to Israel before the war and was reunited with his brother later on. The discrepancy for the number of surviving children on the mother's death record is exasperated by a statement in the biography that three more brothers Lajb, Fishel and Aaron died after their father's disappearance. It would fit the records better if they died earlier before the mother's death. It seems we must accept that neither the testimony nor the official records can be trusted for perfect accuracy.
Although we have not been able to make contact with any of Israel's direct descendants, we received some helpful information from a grandson of Aron Kristal who was one of Israel's uncles. He confirmed for us that Perla, Zisman, Aron and another aunt called Naomi had avoided the holocaust by emigrating before the war. They lived into their old age in Israel. The biography confirms that his paternal grandparents, eight uncles and his brother Yosef escaped to Israel. Sadly many more of Israel's aunts, uncles, brothers and cousins probably all perished in the ghettos or concentration camps.
Although the official record provides us with a reliable knowledge of family members and their relations, there remains some uncertainty over dates of birth. For example, the registration card that confirms Israel's age gives his father's birth year as 1872, when in fact his birth record tells us that it was 1877. The biography seems to support an earlier date if he was born when his mother was 15. In this context how certain can we be of the age given for Israel?
Israel's account of his early life is very detailed and is mostly consistent with both general historical records of the war and the family records we have found. If he had been more than a few years younger than claimed he would not have such detailed early memories, which would mean that he would have to be reporting them second hand as someone else. His testimony was recorded before any records from before the war had been located.
In addition to the registration card, his year of birth 1903 on later records would have been determined by the birth record he described obtaining in 1919. His bar mitzvah happened when he was with his aunt from 1915 to early 1918, narrowing his birth year to between 1902 and 1905. Of course we cannot be sure that these dates were determined independently. His birth date at that time might have been hard to recall if his close family had been isolated from his uncles and grandparents around the time of his birth. The registration card gives his place of birth as Maleniec while most of his aunts and uncles were born in Checiny and Bialogon 50km to the south. However Israel's own testimony states that he was born in Zarnow and moved 7km to Maleniec when he was one year old.  With the help of Michael Tobias we found a record for Sysla Krystal, his last known aunt to be born in 1901 whom we believe to be Naomi. She was born in Zarnow. In fact the records suggest that the last three members of the family were born in Zarnow after a move there around 1894 when Moshe Dawid was 17. There he met his wife Brucha Rojth whose family already lived in the town. This means that Israel's grandparents and his younger aunts and uncles probably lived very close by when he was born. Therefore they should have had a good knowledge of his birth year. His biography also confirmed the close contact within the family in Zarnow.
In summary, we can't be completely certain of his birth year because there is no record of his birth from the time. Realistically it could have been anywhere from 1902 to about 1905, but our investigations left us more confident than when we started that 1903 is the most likely correct year. The exact birth date is less certain. Israel did not use his accepted birthday of 15 September until after the war. Before that only the year was recorded. The only exception was the 1920 addition to the 1918 registration card. There he was given a birthday of 1st May, but since that was exactly the same as his brother Abram it is not considered reliable. In his early life Israel would have learnt the Hebrew calendar rather than the familiar Gregorian calendar used in official record keeping. The Hebrew months are out-of-sync with the usual calendar months so date conversion from Hebrew varies from year to year. This may partially explain why birthdates for the same individuals seem to vary from one official record to the next.
The Jewish new year is celebrated on the holiday of Rosh Hashana which usually falls somewhere in September. The 15th September is therefore either near the end or the beginning of the calendar. The Jewish holiday of Yom Kippur was 15th September in 1937. More ominously, Israel stated on one record that the day his confinement in the Lodz Ghetto began was 15th September 1939. It is not surprising if Israel had only a vague knowledge of his birthday. Apart from the different calendar and early separation from his family, celebration of birthdays in the Jewish culture at that time was only important in special years such as the bar mitzvah. It is also possible that he always had a good knowledge of his birthdate and just never entered it on official records that would require proof.
Another useful online resource we found was "The Central Database of Shoah Victims' Names" (CDSVN). There we were able to compile a list of over 100 records that Israel and his second wife had submitted, naming relatives that had been murdered in the holocaust, mostly in 1957. It includes uncles, aunts, cousins, nephews, and two brothers. Although there were some discrepancies with birth and death dates, and names, the record is broadly consistent with the genealogy we compiled from other sources. All those listed that we could identify are people that we either know to have been victims, or whose fate is unknown. This shows that he was familiar with many of his relatives at that time.
One further loose end needs to be tied up before we can claim to have improved the longevity validation. We must show that it is unlikely that any identity switch took place during his life. This possibility was not explicitly addressed by the validators, but it is essential to do so if the standard of validation is to be improved. 
It is well known that Israel Kristal was a devoutly religious person for his entire life. We can make the assumption that any action he took was done within the moral teachings of Judaism that he was very familiar with. This includes a requirement for honesty, but it also allows a person to be untruthful when necessary if nobody is harmed. In particular, the compulsion to save life is stronger than the bar on lying. The biography tells us that both Israel and his wife switched their identities briefly to hide from Nazis while in the ghetto. If there was a more permanent identity switch during his life then it was probably within a comparable context, and not for personal gain. Israel himself never promoted his longevity or sought to profit from it. With this in mind we explored any opportunity for switches that may exist.
relative
spouse
comments
Self: Israel/Yisrael Isaac/Icek

Krystal

b. 1903 Żarnów 

d. 2017 Haifa, Israel

Wife: Chaya Feige

Frucht

b. 1909 Węgleszyn

d. 1944

m. 1928 Małogoszcz

confectioner, metal worker

post-war family not included in this table

Son: Mojsze Dawid Krystal

b. 1930 Białogon

d. 1930 Białogon

Child died at 3 weeks old
Father: Moszek Dawid

Krystal

b. 1977 Chęciny

d. 1919 Łódź

Mother: Brucha

Rojt

b. 1877

d. 1913 Maliniec

glazier
Grandfather: Jankiel/Yaakow

Krystal

b. 1856 Białogon

d. after 1917

Grandmother: Gitla

Tenenbaum

b. 1858 Chęciny

d. after 1917

m. 1875 Chęciny

colonist, trader

Brother: Yosef/Joseph

b. about 1901

d. after 1950

Sister-in-law: Gocha
Brother: Zisman/Sussman

Krystal

b. 1902 Żarnów

d. 1942 Majdanek

Sister-in-law: Rywka

Wolkowicz

b. 1903

d. 1942/1944 Auschwitz

m. 1928

carpenter, glazier

Nephew: Chaim Uszer Krystal

b. 1924, d. 1942

Son of Zisman and Rywka
Nephew: Mosze Isaak Kristal

b. 1925, d. 1942

Son of Zisman and Rywka
Brother: Abram/Abraham

Krystal

b. 1909 Maliniec

d. 1944 Łódź/Auschwitz

Sister-in-law: Ruchla Laja

Lenga

b. 1912

d. 1944 Łódź

m.

confectioner

reporter

Nephew: Moszek Emanuel Krystal, b. 1933, d. 1942
Son of Abram and Ruchla
Nephew: Chaim Kalman Krystal, b, 1937, d. 1942
Son of Abram and Ruchla
Aunt: Rywka Krystal

b. 1861: Chęciny

Uncle: Aron Rubin

Lived in Lubień, Łęczno

Rywka had a twin Laja who died as an infant
Uncle: Josef/Josek Krystal

b. 1886 Chęciny

d. 1942 Gorzkowice

Aunt: Mariem Kuperberg
Aunt: Chaja Krystal

b. 1888 Chęciny

d. 1943 Russia

Uncle: Hersz Goldberg

b. 1889 Suchedniów

d. 1942 Łódź

m. 1920

merchant

Aunt: Chana/Anna Krystal

b. 1890 Chęciny

d. 1942 Łódź

Uncle: Benjamin Kozusarz

b. 1893 Kielce

d. 1942 Łódź

m. 1918

twin

confectioner

Aunt: Dora/Dwojra Krystal

b. 1890 Chęciny

d. 1942 Gorzkowice

Uncle: Mendel Birnbaum

b. 1890

d. 1942 Gorzkowice

twin
Aunt: Perla Krystal

b. 1893 Chęciny

d. 1987 Israel

Uncle: Hernz Dawid Lewin

b. 1898 Łódź

m. 1922

trader

Uncle: Zysman/Sussman

Krystal

b. 1895 Żarnów

d. 1991 Israel

Aunt: Hendla Rubin

b. 1900 Rozprza

m. 1925

trader

Uncle: Aron/Aaron Krystal

b. 1900 Żarnów

d. 1992 Israel

Aunt:  ?
Uncle: Lajb Krystal

b. 1900

confectioner
Aunt: Sysla/Naomi Krystal

b. 1901 Żarnów

d. 2003 Israel
Table 1 – selected pre-war relatives of Israel Krystal
After the war, Israel quickly remarried, started a new family. This makes any switch after this time difficult. We have also traced his records and memories from before the war. It is evident that he was known to an extensive network of relatives, so switches during that period are also unlikely, even for the time when he was separated from his immediate family during the First World War.

This leaves just one period that needs closer examination. During the Second World War he lost most close relatives who would recognise him. An identity switch might therefore have been able to take place unnoticed under the fog of war. Fortunately one photograph of him from before the war survived on an application for an identity document made in 1931 [63]. This can be compared with portraits taken shortly after the war (Figure 2). In our view the similarity is striking and almost rules out the possibility of an identity switch. However one switch hypothesis remains open.
We know that Israel had three brothers, Joseph and Zisman who were older and Abram who was six years younger. If Abram had a strong resemblance to Israel then the difference may not be apparent in these photos separated by 16 years. Is there a possibility that Abram took on the identity of his brother Israel, making him about six years younger than believed?
Another online resource that proved very useful for finding records from the war period is the "Holocaust Survivors and Victims Database" (HSVD) run by the United States Holocaust Memorial Museum. Here we found records for Israel and Abram from 1940 to 1943 when they were confined inside the Lodz Ghetto. One discrepancy between news reports and testimony as summarised from his late life and the records we found could be potentially significant. It has been written in several sources that Israel had two sons from his first marriage, and that they died from diseases in the Lodz Ghetto aged 8 and 10 years old. Although we found records of Israel with his first wife in the ghetto, there were no children recorded with them. On the other hand Abram did have two sons in the company of him and his wife Ruchla Lenga; namely Moszek Emanuel (b. 1933) and Chaim Kalman (b.1937). There was a record showing that Moszek had been hospitalised for scarlet fever. They were both deported from the Ghetto in 1942 with their mother and must have perished at the hands of the Nazis. When Israel reported his lost relatives in 1957 he reported his brother's children and did not claim to have children of his own. It is only in later life that he is said to have had two children who died from disease in the ghetto. We do know that Israel had a son Mojsze Dawid who died at only 3 weeks old in 1930. When we consulted his biography we found no mention of older children in the ghetto. He only mentioned that his wife was pregnant there. The most likely explanation for this discrepancy is therefore that it was journalists who got confused about the children of Abram and Israel.
Both Israel and Abram are recorded as working as confectioners in Lodz. The story that they survived the ghetto by supplying the Judenrat with sweets is therefore applicable to either brother. It can be confirmed that there was a sweet factory inside the ghetto, at least until 1942. It was recorded that Salomon Hercberg who was the chief of the factory was arrested for hoarding sugar and other commodities. Obtaining ingredients for the factory must have become very difficult as food rationing got tighter. If Abram took the identity of his brother he would need a very good motive, perhaps a situation that he believed would save his life and require him to continue with the deception even after the war. We know that some Jews in the ghetto were seen as collaborators and faced retributions for this later. Some are believed to have avoided this by changing their identity, [65].
The possibility for a sibling identity switch was almost completely put to rest when we finally managed to acquire two further documents. In the HSVD we found a protocol document for Abram which had his photo attached from 1942. His profession was stated as confectioner. The quality of the scan available online was too poor to show the photo with any clarity so we approached the archives in Lodz who agreed to rescan the document and send us a copy. At the same time we received a copy of the biography and found a second photo of Abram with his wife from 1930. The two photos are shown here (Figure 3).

Comparison of likeness from a photo can be subjective so we invite the reader to judge the distinguishability of the two brothers from these photos. We add that the biography provides memories from Israel's early life including accounts of the suffering of his mother that required a greater maturity than the young Abram would have at that time. We also learnt from his biography that Israel was reunited with his older brother Joseph after the war. Putting these observations together makes a war-time identity switch unlikely.
In conclusion, the odds based on current evidence do not support an identity switch. A small discrepancy in age from birth is still possible.  Our research has supported the validation to the standard accepted by the GRG, GWR and IDL. We have significantly decreased the likelihood of any age exaggeration or identity switch left in the official validation, but the lack of a firm record from the time of birth limits further rising of the standard.
| | | |
| --- | --- | --- |
| Time | Sort of document | Documented age/date of birth |
| Dec. 1913 | Mother's death record | — |
| 1918 (de facto Oct. 29, 1920) | Łódź registration card | "1 V 1903" — May 1, 1903 |
| Nov. 10, 1927 | Delayed birth record | 1903 |
| Apr. 1928 | Marriage announcement | 25 (accords with Sept. 15, 1903 -age possibly rounded) |
| May 8, 1931 | Application for ID card | 1903 |
| May 24, 1940 | Litzmannstadt Ghetto registration card | 1903 |
| Dec. 3, 1941 | Litzmannstadt Ghetto registration card | 1903 |
| June 19, 1942 | Litzmannstadt Ghetto registration card | 1903 |
| June 21, 1942 | Litzmannstadt Ghetto registration card | 1903 |
| Oct. 4, 1942 | Litzmannstadt Ghetto registration card | 1903 |
| Oct. 5, 1942 | Litzmannstadt Ghetto registration card | 1903 |
| 1940 | Litzmannstadt Ghetto residents' list | 1903 |
| 1942 | Litzmannstadt Ghetto residents' list | 1903 |
| 1942 | Litzmannstadt Ghetto residents' list | 1903 |
| 1944 | Deportation record | Sept. 15, 1903 |
| 1945 | Vad Yashem card | Sept. 15, 1903 |
| 1945 | Relocation record | Sept. 15, 1903 |
| Apr. 12, 1949 | Citizenship confirmation | Sept. 15, 1903 |
| Jan. 1, 2013 | ID card | 1903 |